SERVICES
SERVICES THAT WILL MAKE YOUR PROPERTY SHINE
From residential to commercial projects, if you are looking to add some more light to your life Outdoor Lighting Concepts offers the highest quality landscape lighting in the industry.
[THE LOCAL AUTHORITY IN OUTDOOR LANDSCAPE LIGHTING FOR INNISBROOK, FL]
OUTDOOR LANDSCAPE LIGHTING SERVICES IN INNISBROOK, FL
Outdoor Lighting Concepts is the local authority on landscape lighting services in South Florida. We are fully equipped to handle all of your outdoor lighting needs and do so with the utmost professionalism. Known for our quality and outstanding customer service, we continue to set the bar. OLC is here to turn your outdoor vision a reality- no matter the type or size of the project!
There is more to outdoor lighting than installing generic builder-grade lights from your local home improvement store. Landscape lighting is an art that we take pride in. When you choose Outdoor Lighting Concepts, a highly skilled team member will review the goals you have for your property and create a design plan that will not only enhance your outdoor space but will increase its functionality and safety.
LIGHT YOUR NIGHT WITH STYLE
At OLC, our passion is landscape lighting! We treat each property and project as if it were our own to deliver you the best possible results. We offer FREE no-obligation design consultations so that we can understand your lighting objectives, view your outdoor space, and provide input on how to make your property a step above the rest.
THE OLC PROCESS
FREE Design Consultation and Nighttime Demonstration
Create a Customized Design Plan
Installation!!!
Post-Installation Adjustment
Monthly Maintenance Plans Available
Exceptional Customer Service
Our dedicated landscape lighting team will walk you through each step of the process and make sure you are fully satisfied.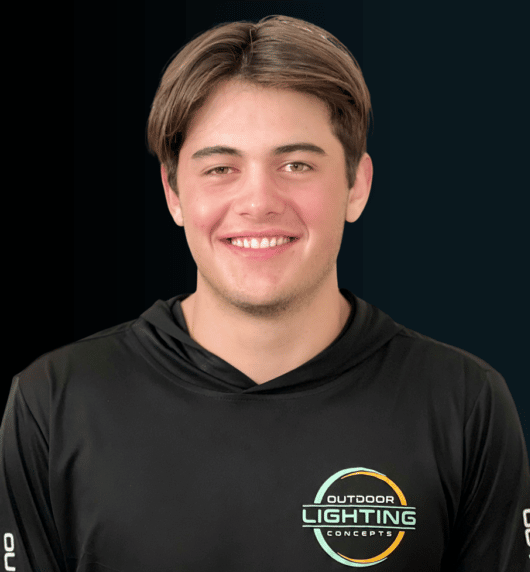 Owner
Jon Henry Prewitt
Innisbrook
[Outdoor Lighting Concepts of Innisbrook]
MEET THE OWNER
Coming from a background of hunting, and fishing in the countryside of Kentucky, Jon Henry has learned to be resourceful and more hands on. After graduating high school and moving to SWFL he started in the field of outdoor lighting and quickly fell in love with it. Throughout his time working in the outdoor lighting world Jon Henry has created beautiful designs that his clients love. Jon Henry has a keen eye and pays close attention to detail. He makes sure that every aspect of the lighting process is taken care of flawlessly. "Helping homeowners achieve their exterior aesthetic goals excites me because I know every time they look at their house they will be happy and I was a part of that."
Testimonials
We had a very positive experience with Outdoor Lighting Concepts and highly recommend them. They were friendly, helpful, and transparent.
Aadam Turner
Testimonials
Spencer came out and designed a beautiful plan for our landscape and home. The results are fantastic. The work was completed ahead of time and without problems. The fixtures we chose will last a long time. We are very pleased.
Jeremy Perry Blaine
Testimonials
Extremely professional. Great customer service. High quality work. Just an awesome overall experience. We could not be any happier with the results and with choosing Outdoor Lighting Concepts.
Wilson Diehl
Testimonials
They added lighting to our back deck as well as to our backyard landscaping. They did great work and the back of our home looks beautiful with the lighting at night. Very pleased and we would highly recommend.
Steuber Mark
Testimonials
We are so pleased with the work Spencer and his crew did at our home. He has a great eye for design and is professional and up front about cost! Would highly recommend this company!
Kathleen Franklin
Testimonials
The project turned out exactly as I hoped it would. The team was professional and did excellent work.
Geoffrey Hoomes
Testimonials
Outdoor Lighting Concepts is fantastic! Great customer service. Reliable and responsive. The do a great job and make your property sparkle!.
Molly Wallace
Testimonials
They were a pleasure to work with. They did a great job with the design and installation. We would highly recommend them to others.
Irma Hoffman
TAKE THE FIRST STEP!
WE'RE READY TO ANSWER YOUR QUESTIONS
OUR PARTNERS & AFFILIATIONS